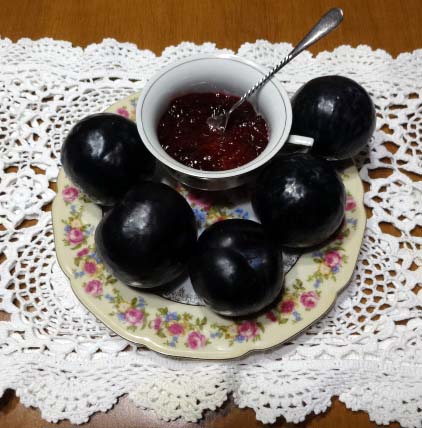 The end of season fruit is piling up. Our neighbor brought us very large bags of pears from his tree and Ann's mom thought she would enjoy a basket of plums. After making pear tarts, poaching a few for dessert and cutting a couple up in salads, we still had a lot of pears. And the plums were delicious straight up but one can only eat just so many plums. What to do.....hmm.... let's try chutneys. Once we got on a roll there was no stopping. Here's two of our favorite recipes.
Pear Chutney
This recipe features the VVW Nectarine Vinegar. It also calls for apple cider vinegar. VVW doesn't produce an apple cider vinegar – we like Braggs. The recipe yields 2 or 3 cups.
4 cups peeled, cored and chopped pears (Asian, Bosc or Bartlett (About 8 small pears or 6 large pears)
1 finely chopped jalapeno pepper (optional)
1 cup sweet red pepper (about 1 large red pepper)
1/3 cup re-hydrated golden raisins (let golden raisins sit in water for 15 minutes – then drain)
1/2 cup Nectarine Vinegar
1/2 cup apple cider vinegar
1/4 teaspoon salt
3 tablespoons finely minced fresh ginger
1/3 cup honey
Make a spice bag containing:
1/4 teaspoon whole cloves
1/4 teaspoon whole allspice
1 cinnamon stick
Place all ingredients in a non-reactive pot, bring to a boil, reduce heat, cover, and simmer for one hour or until desired thickness. Stir often. Remove spice bag, let cool, put in a clean jar and store in refrigerator. This can be served hot, cool, or at room temperature.
All three of us test tasted this recipe with pork tenderloin and a locally made goat cheese. It was delicious!
Plum Chutney
This is delicious with pork or chicken or some cheeses. I used black plums for this recipe. You can freeze or keep in the refrigerator about 2 weeks. This should yield 3-4 cups of chutney.
8 ripe plums pitted and quartered
1 cup of dried cranberries chopped
1/2 cup dark brown sugar
1/4 cup Chardonnay White Wine Vinegar
1/2 teaspoon salt
1/4 teaspoon freshly ground black pepper
2 tablespoons corn starch
2 tablespoons cold water
Zest and juice of one lemon
Combine all ingredients except corn starch and water in a medium sized non-reactive pot. Stir the corn starch and water together until no lumps remain. Add to the pot. Stir and gently heat. Heat for about 45 minutes or until your desired consistency is achieved. Keep an eye on the pot and stir occasionally to prevent it from sticking to the bottom of the pot. (You can break down the plums as you stir!)