Time to fire up the grill for bacon wrapped chicken breasts with a sauce using the Norton Vinegar. The sauce has a surprise ingredient! If juicy thighs are your favorite cut of chicken then you must try our second recipe. Brining with vinegar makes all the difference.
Norton Vinegar Barbecue Sauce
1 cup ketchup
1/3 cup Norton Vinegar
1 and 1/2 cups light brown sugar
1 teaspoon finely minced garlic
1 teaspoon onion salt
1/4 teaspoon cayenne pepper
3 heaping tablespoons lemon curd
(I made my own curd but you can buy it. The recipe I used is at: https://www.allrecipes.com/recipe/53683/perfect-lemon-curd/)
Mix all the ingredients together, adding the lemon curd last. The lemon curd gives the sauce a nice shiny gloss.
Grilled Barbecue Chicken with Norton Vinegar Barbecue Sauce
The smoky saltiness of the bacon combines well with the sweet richness of the sauce. Recipe serves 4.
4 (or more if needed) slices Maple Bacon (thick cut)
4 large chicken breasts
Norton Vinegar Barbecue Sauce
Make the sauce and set aside. Reserve some of the sauce in a bowl for dipping.
Wrap the four chicken breasts with Maple Bacon. Heat your grill to 400 (no more or the bacon will burn). Sear the chicken on each side. Reduce heat to 200 and cook until breasts reach an internal temperature of 165 degrees. Be careful not to overcook because chicken breasts can be dry. It takes approximately 20-25 minutes, depending on your grill. During the last 10 minutes, coat the chicken with the barbecue sauce, brushing it on several times on both sides.
Smokey Dry Rub
1 tablespoon smoked paprika
1 tablespoon salt
1 tablespoon pepper
2 tablespoons brown sugar
1 teaspoon mustard
Combine ingredients and stir together until well blended. Taste and adjust seasonings.
Ketchup Based Basic Barbecue Sauce
This is a sweet, rich, tangy sauce which is even better the next day. We prefer using dark brown sugar, but if all you have is light brown sugar, use that.
1 cup tomato ketchup
¼ cup molasses
1 tablespoon dark brown sugar
Blend together all the ingredients. Taste. If preferred add another tablespoon of dark brown sugar. This sauce can be dressed up or left as is. If you like more heat, add a couple of dashes of your favorite hot sauce. If you prefer it more savory, add a tablespoon of Worcestershire Sauce.
Brined Chicken Thighs with Smokey Dry Rub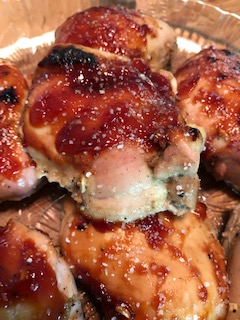 We have never brined poultry with vinegar before. This was a mistake. Brining chicken in the Heritage Blend White Wine Vinegar gives it a luscious and juicy flavor. Recipe serves 3 or 4.
Smokey Dry Rub
7-8 chicken thighs (bone in, skin on)
½ cup water
1 clove garlic
Ketchup Based Basic Barbecue Sauce (optional)
You can certainly use boneless, skinless thighs in this recipe. But we have found bone in and skin on has more flavor.
Roughly chop garlic. Place chicken in a large plastic bag. Add garlic, water and vinegar and 1 tablespoon of the rub. Close and turn the bag so that the brine covers all the chicken. Leave in refrigerator overnight.
When ready to cook, preheat oven to 350 degrees. Remove chicken from brine. Pat chicken dry and discard brine. Place chicken on baking pan or sheet. Sprinkle remaining rub over the chicken and lightly message it all over the thighs. Bake for 40 minutes. If you like sauce over your chicken smear the Ketchup Based Basic Barbecue Sauce on the thighs and broil or grill the chicken for a minute or so. Keep a careful eye on it so that it crisps to your liking.