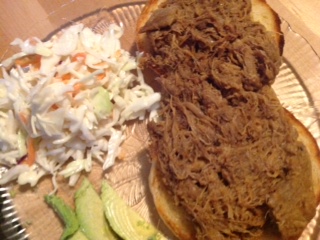 Pulled Pork with Smokey Dry Rub and Basic Barbecue Sauce
(Recipe from "Cooking with Artisanal Vinegar from Central Virginia")
Pulled pork, which is typically made from a "Boston Butt" or more correctly, the pork shoulder, can be made in a slow cooker or oven. It can be cooked with or without a barbecue sauce. We like to cook the pork in the oven with a dry rub, adding the barbecue sauce after it is pulled. The spiciness of the dry rub combines well with the sweetness of the Ketchup Based Basic Barbecue Sauce. This recipe serves 8 to 10.
1 Boston Butt (8 to 10 pounds)
Smokey Dry Rub
Ketchup Based Basic Barbecue Sauce
2 to 3 tablespoons oil (optional)
Smokey Dry Rub
6 teaspoons smoked paprika
3 teaspoons onion powder
3 teaspoons garlic powder
3 teaspoons salt
1 and 1/2 teaspoon freshly ground black pepper
1 teaspoon cumin
6 teaspoons dark brown sugar
Combine ingredients and stir together until well blended. Taste and adjust seasonings.
Ketchup Based Basic Barbecue Sauce
2 cups tomato ketchup
1 cup Heritage Blend White Wine Vinegar
1/2 cup molasses
2 tablespoon dark brown sugar
Blend together all the ingredients. Taste. If preferred, add another tablespoon of dark brown sugar. This sauce can be dressed up or left as is. If you like more heat, add a couple of dashes of your favorite hot sauce. If you prefer more "tang" in your sauce add more vinegar. We suggest adding a tablespoon at a time, tasting after each addition.
Sprinkle the dry rub all over the Boston Butt and gently massage it into the meat. Wrap completely with plastic wrap and leave in the refrigerator overnight. Preheat an oven to 300 degrees. Remove the plastic wrap and discard.
Although some cooks don't think searing the meat is entirely necessary, we think it adds to the flavor of the pulled pork. If you wish to sear, heat the oil in a large skillet and brown the meat all over.
Place the seared or uncooked meat in a large pan or Dutch oven. Place the lid over the Dutch oven or cover the pan tightly with foil. Cook the pork for 7 to 8 hours or until falling apart. Remove excess fat and discard. Pull the pork apart with forks.
Place the pulled pork in a large pot and pour over about half the sauce or until the pork is thoroughly coated. Reserve the remaining sauce for serving. Gently reheat and serve with buns.
Incidentally, Ann says that she started the recipe mid-afternoon but was tired and wanted to go to bed early despite the fact the pork needed another hour of cooking. Ann surrendered to her fatigue and ended up turning off the heat, leaving the pork in the oven overnight. She says that the next morning, the pork was falling apart tender and absolutely delicious! We don't necessarily endorse this approach to cooking but mention it in case of extreme fatigue.